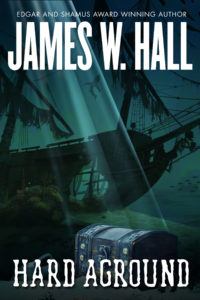 Buried treasure. 450 years ago a treasure ship went down. In Miami, the heat hasn't let up yet…Hap Tyler windsurfs on Biscayne bay, hears voices, seduces young women, and lives on the edge of history in his family's old-money mansion amid Miami's pastel glitz. But while Hap stumbles around in the shadow of his more successful older brother, Daniel, a tangled web of deception and greed is being spun around him –a web that leads Daniel to his death.
Trying to solve his brother's murder, Hap collides with a 450-year-old secret: the disappearance of $400 million in a sunken Spanish plunder. Daniel's upscale girlfriend is close to digging up the treasure, an avaricious senator has already tasted it, and a stone-cold killer will stop at nothing to bring it home. The century-old city of Miami is a town that murder built. One of its darkest secrets and greatest treasures is about to be exposed.
"A masterful page-turner." — Miami Herald.
"Buried treasure, sexual kinks, family secrets, real-estate swindles…a complex intrigue." — The Boston Globe
"Highly original and entertaining." — Elmore Leonard